My path as a jeweler began with a handed down box of tools and a class at the "Y" in Philadelphia. The inheritance of tools included some bits of ebony and bone; materials that continue to compel me decades later.
Other materials I use are sterling and fine silver, yellow golds, shakudo (a copper and gold alloy), mokume gane, pearls, stones precious and not, mirrors, glass and other unobtainium.
I spent several years learning metalsmithing at Penland School in the hills of North Carolina. I now live in northern California where my wooden bench with its tools, the metals, bone, and culture of art are the primary instructors and collaborators.
My ideas and inspiration derive from the collective experiences of my waking and imaginative life; such things as the forms of the natural world . . . the clever seed pods, the designs of the human body, floppy microorganisms. A brooch or a ring emerges from my stash of materials and is coaxed and teased until it is a thing which can be cherished. In many cases the process of working itself is the catalyst for a new idea . . . works in progress that have more grit than the polished idea that I thought I was aiming for and one thing leading to another.
I see most of my works as installments in an ongoing conversation that I started many pieces and many years ago.
---
Penland School of Crafts is world-renowned for total-immersion, hands-on workshops that have provided dynamic, often life-changing, educational experiences to thousands of people. Less well known, perhaps, are Penland's multiyear artist residencies. This beautiful volume now tells the story of the school's extraordinary Resident Artist and Core Fellowship programs, which have for decades launched and nurtured scores of brilliant artistic careers.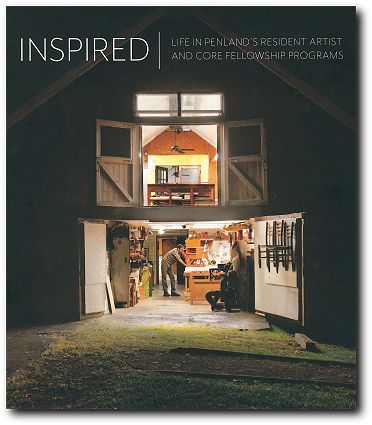 PUBLICATIONS
Inspired:  life in Penland's Resident Artist and Core Fellowship Programs, (2017)

Art Jewelry Magazine, November 2009
The Art of Wood Jewelry,  Lark Books, 2007, New York, London
Lapidary Journal, April 2005, "Primitive Abstractions" 
Ornament Magazine, Autumn 2004, "The Philadelphia Museum of Art Craft Show"
Metalsmith Magazine, Spring 2002, "Matter into Metaphor—Transformation in Asian and Western Metals" 
EXHIBITS / INVITATIONALS
"10 by 10," Swan Gallery, Philadelphia, Pennsylvania (1986)

"Contemporary Metals U.S.A.," Downey Museum of Art, Downey, California (1986)

"Art Jewelry 87," Langman Gallery, Willow Grove, Pennsylvania. (1987)

"The Art of Bead Designing," Gallery Eight, La Jolla, California (1987)

Featured Artist, Greenville County Museum, Greenville, South Carolina (1987)

"Just for Fun-Wit and Whimsey in Craft Media," The Craftsman's Gallery, Scarsdale, New York (1988)

"Presenting 15 Jewelers," Freehand Gallery, Los Angeles, California (1988)

"9 x 10, New x Familiar-Jewelers," Susan Cummins Gallery, Mill Valley, California (1988)

Gallery of Functional Art, Santa Monica, California, part of "Chair as Art2," show (1990)

Featured Artist, Banaker Gallery, Walnut Creek, California (1991)

"Bracelet Show," Gallery Wear, Pittsburgh, Pennsylvania (1991)

"Small Treasures," Joanne Rapp Gallery, The Hand and the Spirit, Scottsdale, Arizona (1991)

Featured artist, Creative Metalsmiths Gallery, Chapel Hill, North Carolina (1992)

"California Metal: An Invitational Survey of Contemporary Metalsmithing," Saint Mary's College of California, Moraga, California (1993)

Featured Artist, De Novo, Palo Alto, California (1993)

"In Celebration of Wedding Rings," group show, Joanne Rapp Gallery/The Hand and the Spirit, Scottsdale, Arizona (1994)

Featured artist, Banaker Gallery, San Francisco, California (1994)

"Exhibition of New Work: Yoshiro Okeda, Grant Miller, Susan Chin," Running Ridge Gallery, Santa Fe, New Mexico (1994)

"Treasures," John Michael Khler Arts Center, Artspace, Sheboygan, Wisconsin (1994)

"Triptych: Explorations of the Brooch," Craft Alliance, St. Louis, Missouri (1995)

Featured artist, Banaker Gallery, San Francisco, California (1995)

Featured artist, Creative Metalsmiths Gallery, Chapel Hill, North Carolina (1995)

"The Oxidation/Burial Project," via Thomas Mann, The Artful Eye and The Robert Pepi Vineyard, Calistoga, California (1996)

"Winter Light," Susan Cummins Gallery, Mill Valley, California (1996)

"Rocks, Stones, Pearls," Susan Cummins Gallery, Mill Valley, California (1997)

Featured artist-March, "Celebrating 25 Years of American Craft," Amerian House Gallery, Piermont-on-Hudson, New York (1998)

"The Genuinely Jubilant Jeweltide Jumble of Gleaming and Glistening Geologic Gems and Gilded Gorgeous Jewelry," Susan Cummins Gallery, Mill Valley, California (1998)

"Annual Valentine's Show," group show, De Novo Palo Alto, California (1999)

"Alida to Zack: 28 Years of Penland's Core Program," Penland School of Crafts, Penland, North Carolina (1999)

"Asian Roots, Western Soil: Visual Poetry in Metal," Cabrillo Gallery, Cabrillo College, Aptos, California (2001)

Featured artist, Foothill College, Los Altos Hills, California (2001)

"Annual Valentine's Show," group show, De Novo Palo Alto, California (2002)

Featured artist, Diamond-Tanita Gallery, Portland, Oregon., (2003)

"Asian Roots, Western Soil: Visual Poetry in Metal," National Japanese American Historical Society, San Francisco, California (2003)

"Metals Exhibition," Xen Gallery, St. Louis, Missouri (2005)

"Annual Valentine's Show," Denovo, Palo Alto, California (2006)

"Playful Distractions," group show, Taboo Studio, San Diego, California (2006)

"One and Only," Kohler Arts Center, Sheboygan, Wisconsin (2006)

Featured artist, Creative Metalsmiths, Chapel Hill, North Carolina (2007)

"New," The Penland Gallery, Penland, North Carolina (2007)

"The NECKpiece," The Signature Shop & Gallery, Atlanta, Georgia (September and October, 2007)

"Jewelry from Paintings and Architecture," Mobilia Gallery, Cambridge, Massachusetts, (December 2007 – January 2008)

"The Magic of Pearls," group show, Taboo Studio, San Diego, California (2008)

"Pan Pacific: a spotlight on Asian techniques and influences in contemporary studio jewelry," Aaron Faber Gallery, New York, New York (2008)

"Delicate Beauty: exceptional jewelry from exceptional artists," Penland Gallery, Penland, North Carolina (2009)

"Indulge," Bellevue Art Museum (group show), Bellevue, Washington (2010)

"Ju Ju Magic," Facere Gallery, Seattle, Washington (2010)

"Oro y Negro," The Shaw Gallery, Northeast Harbor, Maine (2010)

"Play by Ear," Taboo Studio, San Diego, California (2011)

"Sets," The Shaw Gallery, Northeast Harbor, Maine (2011)

"33rd Annual Jewelry Show," Freehand Gallery, Los Angeles (2013)

"Spiral Form Jewelery," Shaw Gallery, Northeast Harbor, Maine (2013)

"Annual Valentine's Show," DeNovo, Palo Alto, California (2014)

"Inspired," Penland Gallery, Penland, NC (2017)

"Special Occassion Jewelry," Mobilia Gallery, Cambridge, MA (2018)

"Alchemy: The Power and Magic of Jewelry,"  Mobilia Gallery, Cambridge, Massachutes (2021)

"

Valentine's Show" DeNovo, Palo Alto, California (2022)

"Women Made-jewelry from the hearts and hands of 11 artists",  Taboo Studios, San Diego, California (2022)